Throughout history, women remain under-represented at the very top, nevertheless, the central role of women in society has ensured the soundness, progress, and long-term development of states. And Ghana, the first Sub-Saharan African country to achieve independence from European rule isn't excluded. When we think of pre and post-independence Ghana, we reduce it to some men; this is why Phase 2 of the 'Art for all project' was created to honor iconic Ghanaian women. This is important because dealing with gender bias and spotlighting women's contributions could help decrease the dominant ideology of patriarchy significantly.
Dzeŋ Sane: a three-part documentary by Ghanaian filmmaker Kwesi Mbir about the making of a captivating mural in the city of Accra, featuring women from the Gold Coast and post-independence Ghana, whose work advanced contemporary State formation and Pan-Africanism. The film also unpacks diverse approaches to image-making frameworks through the gaze of artists within Afuabe.
This captivating documentary by Accra [Dot] Alt, Afuabe in collaboration with Reaga Right tells the fascinating story of the founding women of Ghana, among them freedom fighters, scholars, and medical pioneers.
"For some reason when we think of pre and post-independent Ghana, we reduce it to a few people, a few men. These women also participated in shaping the history and independence legacy of this country and this is our tribute to them" Mantse Aryeequaye, Director at Accra [Dot] Alt
Established in 2020, the Art For All project is spot on. It was also a footnote from the president's manifesto of beautifying the city. The primary phase was in Ako-Adjei Interchange and the second phase was in Tetteh Quarshie Interchange both within the capital city, Accra.
The mural casts its eye over some inspirational sheroes of pre and post-independence Ghana, a dynamic list of leaders whose work dispels the parable that women are primarily focused on social sectors as against areas that drive economies. The women are; Susan Ofori-Atta, Esther Ocloo, Mabel Dove, Theodosia Okoh, Annie Jiagge, Adorkor Coffie, Efua Sutherland, Yaa Asantewaa, Millicent Danquah, and Dedei Ashikishan.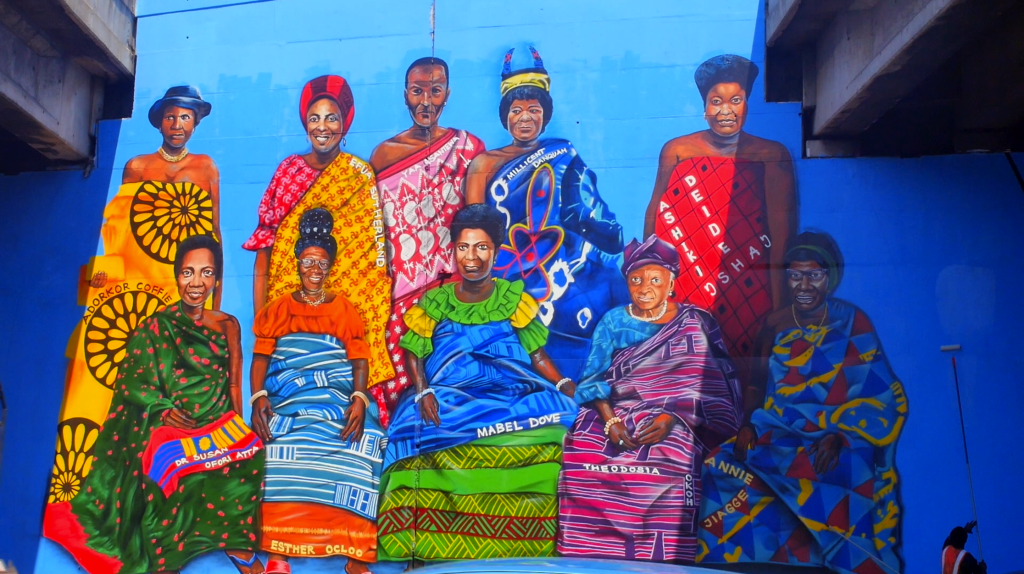 Theodosia Salome Okoh (1922 – 2015), was a Ghanaian teacher and artist known for designing Ghana's national flag in 1957. Annie Ruth Jiagge (1918 –1996), also referred to as Annie Baëta Jiagge, was a Ghanaian lawyer, judge, and women's rights activist. She was the first woman in Ghana and also the Commonwealth Nations to become a judge. Efua Sutherland, (1924 – 1996), was a Ghanaian playwright, poet, teacher, and children's author. She founded the Drama Studio in Accra (now the Writers' Workshop in the Institute of African Studies, University of Ghana, Legon). Her works include the plays Foriwa (1962), Edufa (1967), and also The Marriage of Anansewa (1975) Melody Millicent Danquah (1937 – 2016), This inspirational shero was Sub-Saharan Africa's first female pilot. (Source: accradotaltradio.com)
Rebecca Naa Dedei Aryeetey (1923 – 1961), also known as Dedei Ashikishan was an entrepreneur and political activist. She became a chief financier of the Convention People's Party (CPP) formed by Nkrumah, the first Prime Minister and President of Ghana. Laura Adorkor Coffie, was an activist and liberation theologian who used scripture to justify freedom, just as slave masters did to justify slavery. Coffie joined and became a speaker for the Universal Negro Improvement Association (UNIA) and is responsible for expanding its reach across the United States, specifically the southern parts of the USA. Yaa Asantewaa (1840 – 1921)– was the gallant queen mother of Ejisu in the Asante Kingdom who resisted Southern armies in the Gold Coast in their last push against the abolishing of human trafficking in the region. (Source: accradotaltradio.com)
The entire project was three years in the making, from conceptualizing, designing, and pitching to getting approval from the city authorities. ACCRA [dot] ALT; an independent cultural network that promotes the alternative work of Ghanaian artists and emerging creatives across the globe, was behind it with support from the Creative Arts Council and Afuabe, an art collective made up of filmmakers, muralists, theorists, and performers. Afuabe painted the magnificent mural covering over 200 meters stretch of surfaces in 8 weeks.
My remark on the mural is simple 'Viewpoints remain the same, it's all astounding' – GZA/Genius [wu-tang clan]